My neighbour is crashing around in the greenhouse, not a happy bunny at all. She used to love gardening, then she had the chance to turn pro. Her hobby became her job and now she does not know what to do to relax. The thought of looking after her own garden is now a form of unpaid overtime. Hence the crashing around in the greenhouse. As a radio lifer, when the chance came to move to Lowes, I jumped at it. In twelve years there, I never found another hobby except my attendance in the local pubs increased dramatically. You can't treat drinking as a hobby. It is, of course, a vocation.
We were all very professional up at Matlock, but with that tiny amount of anorak that came with the job, we needed to get out more.
Every spring, a young man's fancy turns to thoughts of antenna maintenance. Up at the crack of lunch, bench technicians unused to the light would be dragged kicking and screaming into the sunlight. Outside of work, they were keen rock-climbers, a hobby that's part of the spec for living in Derbyshire. Base camp would be established somewhere near the Goods Entrance. Your writer, a man who gets vertigo in thick socks, stayed firmly on the ground. One second the lads are on the ground next to me, the next they are up on the roof. I never saw a ladder.
The Bentley Bridge home of Lowe Electronics is just over 1000ft above sea level. I remember this as I was cornered one lunchtime by a map reading bore who announced we are actually 1053ft ASL, easily memorised as that was the AM frequency of Radio 1. It's Talk Sport now, but he was right. Every time I drive by the place, I remember this. The psychological damage has been done. I think GPS will have proved him wrong anyway.
Being that high up, the first frosts of winter killed the vegetation around August Bank Holiday and the permafrost would soften enough to bang in an earth spike around the summer solstice. Winters like this took a toll on the aerials, hence the crew on the roof. What could be saved was saved, the rest was plastered in ScotchKote, an industrial sealant we found necessary to apply very thickly. Nothing to do with the fumes that could drop a moose at thirty paces. You got a real hangover using this stuff; sight and judgement were impaired. And they layered it on three storeys up.
JW would come back from his fact-finding missions in the foreign with all manner of esoteric antennas. The crew on the roof would lovingly attach them to their end of the coax, while those of us with vertigo would carry out Meaningful Measurements at the Workshop end. If the aerial was a good one, it would be switched between the Showroom and The Workshop. We would try to convince the Showroom staff that vital monitoring work was being done in the Workshop and that the new aerial must be switched over to us at all times. What we were doing was practising air-guitar solos to LASER 558. You take the classic Clapton stance for the end guitar break on The Walker Brother's No Regrets and the Showroom switches the aerial over for a demonstration. To think that selling radios paid the wages, not a hobby at all.
How About This For A Jolly Jape?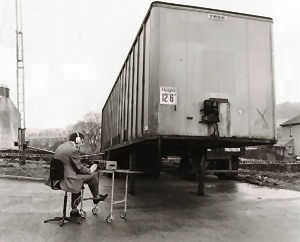 The line used was that I had been studying the design of the K2RIW linear for 70 cm which used two 4CX250B tubes in a cavity and I realised that a 40 foot container would resonate at 7MHz, so we built a cavity tuned linear using the convenient container outside the workshop and drove it from a TS-520 which is on the little trolley where I'm sitting.
The RF output was used to feed the Strumech tower as a grounded quarter wave antenna and the reinforced coax feed line can be seen in the background!
We did, as I recall, get a fair number of requests for the design - John Wilson
Whatever Happened To Lowe Electronics
What happy memories you bring back of those periods of hysterical anarchy which represented the average working day at Lowe Electronics.
I greet you as a pale (but fat) shadow of my former self as illustrated in the photographs on this web site, laughing (as we always did) at the latest draft of The Listeners' Guide or hunched over a TS-520 in the Lowe car park in the shadow of a shipping container full of unsaleable computers.
My word - how close came we to disaster when we transferred our attention from radio to computing and Bill Lowe was overheard (by my wife) saying "Computers are the future and we can get rid of John's merry men". That's when I decided that it was time to get serious and build our own receivers. I think that John's merry men made the point quite well considering we sold something like ten thousand HF-150 receivers in addition to the thousands of HF-125, HF-225 and so on. Where are the computers now? Come to that, where is Lowe Electronics now?
But - I still own a mint BC-348 and several working examples of the Zenith Transoceanic, all topped out by an AR-7030 which is still one of the best performing HF receivers the world has known, and a product of the sheer genius of John Thorpe coupled to the wisdom of AOR in taking up John's designs.
I do miss the sound of Speedbird Concorde calling in from the edge of space as it began descent into New York but these days it would probably be blotted out by the ever-increasing tide of electronic garbage thrown around by PLT (Power Line Telecommunications) and/or DSL (Digital Line Signalling) whereby the Democratic Peoples' Post Office attempt to stuff high speed data down a Victorian pair of copper wires with the inevitable result that the copper acts (no surprise) as a giant end-fed long wire and radiates for literally miles in all directions. Nuff moaning!
Keep up the writing; you bring laughter into the hearts of many people world wide, and I shall continue to remember the good times we all had as members of that happy band known (apparently) as John's merry men. Merry we certainly were, and no more so than at 5pm on a Saturday afternoon when we forced the showroom doors closed against the barbarian hordes and settled down in the back office with a bottle (or two) of good wine, a handful of salted peanuts, and reviewed the past week as we slid ever closer to total hysterical oblivion.
John Wilson - G3PCY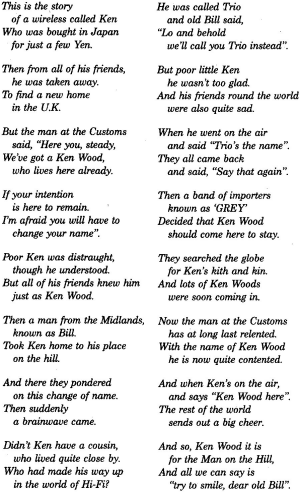 The Ballad Of Ken Wood
Many will remember The Grey Wars that raged during The Eighties.
Should an authorised dealer like Lowe Electronics support products that came into the country some other way? For us down in the workshop, it was pretty clear cut.
No support for so-called grey imported KENWOOD rigs. And that was final.
TRIO was the UK brand, anything marked KENWOOD was a food mixer, the only mixer with third-order products that stuck to a bowl.
Time has passed and so has Lowe's. Let the last word go to Bernie G4AOG and Brenda G4VXL, founders of Amateur Radio Exchange and their take on The Grey Wars.
It was so important back then.
Changing times and brands leave us wondering what all the fuss was about and, off the record, The Ballad Of Ken Wood is rather clever. We miss those days and all those little things we felt passionate about.
One last 73 to former customers of Bandit Bill and ARE. Thanks for everything. If you still keep a log, we'll see you further down.
The Lowe Hall Of Fame
We took the long and winding road from Derby to Matlock as a kind of radio pilgrimage.
We stood in silent wonder on the former site of The Emporium, Lowe Electronics. If you were a customer there, can we have your memories via Contact Us please? It would be great to keep an online archive of a once-great electronics company.
It was Bill himself who served me when I bought my first rig, the fabulous Liner 2 after gaining the G8 in 1975 whilst an impoverished student. As a welcome into the hobby he gave me a Jaybeam 4el Yagi to get a young (19) year old up and running on 2 metres. Since then until its closure I hate to recall how many rigs and what expenditure passed through their tills from myself but each and every visit was an adventure that sadly can't be repeated with mail order - Steve G8LIK

I heard Lowe stocked DAB Tivoli RX's so I thought I'd make a day out of it and visit the place before it closed. Many years back, Rob Gill had done a free-sheet on walks in the area so, armed with an original copy, I parked on the top carpark and stumped off toward Lumsdale. When I got back to the car, there was a huge note stuck on it saying it was not a carpark. Thinking it was a joke, I went in to get my radio only to get into a big fight over who has the right to park there. A valued customer? I don't think so. A real shame - I wanted the radio to remember the place by. Driving back still smarting, I popped into Super-Fi and got my Tivoli. No wonder they went out of business!

It was Lowe on Chesterfield Road that got me into amateur radio. The staff there always had time to talk and I first got licenced in the 70's. On one of the great open days I was the lucky winner of a Kenwood receiver which is still giving great service. After that I never bought anything anywhere else and it was sad to see the business sold and eventually out of amateur radio. They may have called Bill Lowe a cowboy but he was he must have very bad at it as a fairer man to deal with in amateur radio I have not met yet. Good luck with the site - 73's Chris G0UFP

I got my first radio, an FT101b from the Wellington Road hut in 1974. My brother got an aircraft band radio, a Sky Ace 60 - he still has it - from Chesterfield Road! - John Fletcher

Had a pint in The Rising Sun up above Wirksworth and saw the new Lowe building set back from the road. Googled them to see what the new business is about and found it interesting. Emailed them as an old customer wishing them well in their new venture but my old-fashioned good manners was not worth a reply.

I have memories of the time that Bill Lowe moved from Wellington Road to the Chesterfield Road site and of the hours I spent with JT after you went into the PMR market. We bought many TRIO TK801's and TK701's from the shop - big but they were reliable. In later years I spent many hours modding them to fullfil a need in the packet field and to build a 256CH synth board for them - Brian, g8vpr ex ce midcom rts

Are you referring to the shop on the main road or the earlier location? I recall buying the first ICOM from (bandit) Bill Lowe. IC-2? I can't off-hand remember the letter after the 2. I later bought a number of rigs from Bill. I remember buying one of the new Trio/Kenwood 2m VFO rigs. It was most unstable compared to the ICOM VFOs. Give Bill his due, he took it back for a refund without any problems. Bandit Bill - a true gentleman. - Alan, G4ENS (G8ENS at that time)

I met some great like-minded souls and learned a lot from them. Bill Lowe was a great character; if you asked him for advice, you had better listen! When the place closed, so did a piece of radio retail history - Bob G8YQL