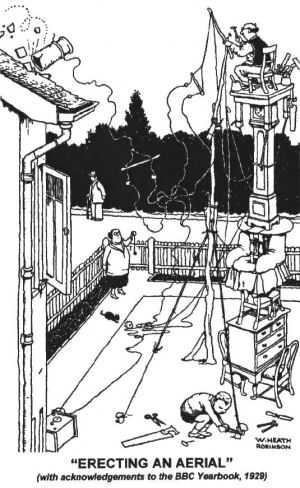 Welcome back to The Listener's Guide. Thanks for finding us.
What Are The Wild Waves Saying?
Our Heath Robinson cartoon shows the lengths a radio enthusiast will go to for good shortwave reception. Something of a lost cause with stations leaving the air almost every month but we find there is still life in shortwave yet and have put together large libraries of radio information and the latest news for your reading pleasure.
We found ourselves with hundreds of radio data sheets going back nearly ninety years, now online for you to download and wonder.
Listen Again To The Best Of BBC Radio
We know listening is moving online, so we link to every available programme on the BBC Radio iPlayer from all the major networks.
Listen by genre across the BBC by following a link on the left.
Download A Podcast From BBC Radio
We list every podcast from every BBC radio show that has one.
Download or listen online to the latest editions or review what the growing archives have to offer. Browse, search, just enjoy your stay.